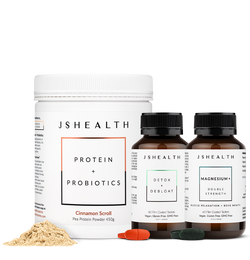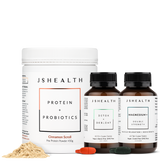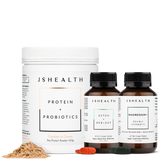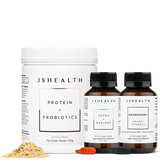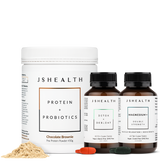 The Reset Kit
Perfect vitamins to go with our JSHealth App Challenge!
Perfect vitamins to go with our JSHealth App Challenge!
+ 74 Loyalty Points
In need of a reset after a crazy year and even crazier holiday season? Our Reset Kit has you covered!
Support your liver's cleansing and detoxification processes and banish bloating with our Detox + Debloat formula, give your tired muscles and bones some love with our Magnesium, and fuel yourself for a kicka*s year ahead with our gut-loving Protein + Probiotics blends in your favourite of our delicious flavours!
JSHealth believes in truly nurturing the body and nourishing it with the right nutrients, minerals and herbs to reach its full potential. The ingredients are provided at a therapeutic dose.
Take a look at the real customer results and transformations below.
Please follow the directions on each individual bottle or visit our FAQs page.
Warnings:
If symptoms persist, seek the advice of a healthcare professional.
Store below 30°C in a cool dry place away from sunlight.
If pregnant or breastfeeding please consult a GP before use.
Do not use if the seal on cap/lid has been broken.
Our team of health experts source each ingredient in our products with great care. Every ingredient is supported by traditional research indications, and tested multiple times to ensure purity and effectiveness.
Gluten & Wheat
Sugar
Dairy & lactose
Soy
Artificial colours & flavours
Artificial sweeteners
Bee products
Corn
Egg
MSG
Tree nuts & ground nuts
Peanuts
Sulfites
Salicylates/bioactive amines
Yeast
Customer Reviews
Individual results may vary.