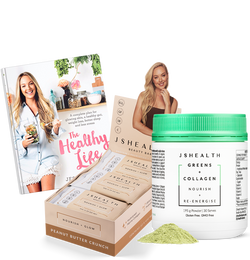 'Nourish + Flourish' - Limited Edition Gift Bundle #3
Nourish a loved one with the favourites from JSHealth founder, Jessica Sepel. This limited edition bundle includes... More
Nourish a loved one with the favourites from JSHealth founder, Jessica Sepel. This limited edition bundle includes Book 1 from Jessica Sepel, our bestselling Nourish Bars, and our NEW Greens + Collagen Power.
+ 87 Loyalty Points
Exclusive member savings
Cancel or edit at anytime
Regular rewards + gifts!
Access to the JSHealth App
Early access to sales!
Refer to the individual product pages for full ingredients, indications and warnings.
Beauty Bar - Peanut Butter Crunch
♻︎ All JSHealth Vitamins are recyclable in your normal household recycling. We use HDPE and PET recyclable plastic to reduce packaging waste. Please recycle your bottles.
Greens + Collagen: Shake container before use. Mix 1 level scoop (6.5 g) in 150 mL water and mix well before drinking. Consume immediately. Greens + Collagen can also be enjoyed blended into your favourite smoothie or juice.
WARNINGS:
Store below 25°C in a cool, dry place away from direct heat and sunlight.

Do not use if tamper evident seals are broken or missing.

Contains fish and wheat grass. May contain traces of crustacea (shellfish).

Clinical studies on collagen have only been conducted on non-pregnant women. Therefore unfortunately, when it comes to pregnancy and breastfeeding, we cannot advise on specific supplementation. If you are pregnant or breastfeeding, please talk to your health professional before taking any products.
QUALITY + CARE:
Our team of health experts source the ingredients in our products with great care. We ensure quality and specific doses of actives are placed in each of our targeted formulas to achieve its indications.
We believe in nourishing your health, confidence and wellbeing with a holistic approach.
Customer Reviews
Individual results may vary.