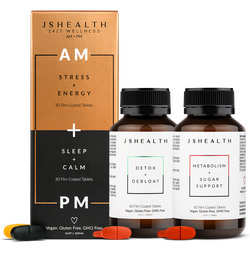 Holiday Kit
This festive kit is perfect to keep you healthy when you're travelling.
This festive kit is perfect to keep you healthy when you're travelling.
+ 90 Loyalty Points
Exclusive member savings
Early access to sales
Pause, edit or cancel anytime
Access to the JSHealth App
Regular rewards + gifts!
This kit will keep you healthy when you're travelling; stress-free for shopping, packing and cooking; and de-bloated after you indulge in all the yummy foods! Not to mention, it will keep your sugar cravings and metabolism in check! It's the perfect healthy travel companion!

Our Detox + Debloat formula supports liver health (handy for the holiday season!), reduces abdominal bloating and supports digestive discomfort! This formula contains Milk Thistle to support your body's natural liver cleansing and detoxification processes, and Turmeric which has been proven to support the liver. The Fennel and Milk Thistle have traditionally been used in western herbal medicine to relieve digestive discomfort and to decrease, reduce, and relieve abdominal bloating and distention.
Our Metabolism + Sugar Support formula contains Chromium, Magnesium and Zinc which aid in the metabolism of glucose, carbohydrates, lipids, and proteins. Zinc maintains and supports your body's metabolism and metabolic rate, while Magnesium boosts energy levels. It also contains cinnamon and gymnema, which support healthy blood sugar/glucose levels.
Our AM + PM Multivitamin has two sides to it: Our AM formula contains Panax quinquefolius, an adaptogen used to help the body adapt to stress and relieve weariness, tiredness, fatigue, and feelings of weakness. The AM formula also has Vitamins B5 and B6 to support the health and function of the nervous system and maintain energy levels. The formula also has immune-boosting vitamins like B6, B12, and C, along with Selenium and Zinc to support healthy immune system function.
The PM formula supports deep sleep, containing Lavender which is traditionally used in western herbal medicine to induce sleep and to relieve sleeplessness. It is also used to support the nervous system, to reduce nervous tension and unrest, calm the mind and nerves, and relieve symptoms of mild anxiety. The formula also contains Magnesium, a mineral that maintains and supports the nervous system health and function. Magnesium also helps to relax you, and maintains muscle function, bone health, and cardiovascular health.
JSHealth believes in truly nurturing the body and nourishing it with the right nutrients, minerals and herbs to reach its full potential. The ingredients are provided at a therapeutic dose.
Take a look at the real customer results and transformations below.
Please follow the directions on each individual bottle or visit our FAQs page.
Warnings:
If symptoms persist, seek the advice of a healthcare professional.
Store below 30°C in a cool dry place away from sunlight.
If pregnant or breastfeeding please consult a GP before use.
Do not use if the seal on cap/lid has been broken.
Our team of health experts source each ingredient in our products with great care. Every ingredient is supported by traditional research indications, and tested multiple times to ensure purity and effectiveness.
Animal Products
Aspartame
Crustacea
Dairy
Egg
Fish
Gluten
Lactose
Peanuts
Sesame
Soy
Sucralose
Sugars
Sulphites
Tree Nuts
Wheat
Yeast
Customer Reviews
Individual results may vary.