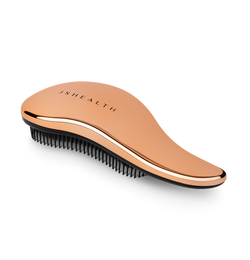 FREE HAIR BRUSH ADDED
+ 0 Loyalty Points
Designed to be gentle on hair

Helps to detangle + smooth strands

Massages to support scalp health

Black leightweight bristles encased in rose gold

Features signature JSHealth Vitamins logo
Complete your haircare routine with our exclusive JSHealth Vitamins Hair Brush, complete with signature logo. This stylish and considered design features black lightweight bristles to help protect and support hair whilst grooming, in a chic rose gold casing. The ergonomic handle ensures ease of use as you effortlessly detange and smooth hair from scalp to ends.
Whilst bushing, apply a gentle amount of pressure at the scalp to provide a massaging effect for enhanced blood flow to support healthy scalp skin and hair follicles.
Customer Reviews
Individual results may vary.